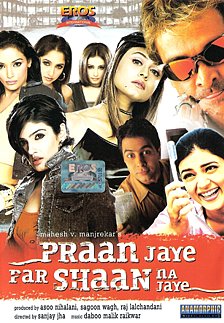 > molodezhnaja main page (German)
> asian movies
> bollywood
> PRAAN JAYE PAR SHAAN NA JAYE (English)





Tragicomedy. India. Hindi
Director Sanjay Jha
Writer Mahesh V. Manjrekar
Producers Mahesh V. Manjrekar, Asoo Nihalani, Sagoon Wagh, Raj Lalchandani
Music directors Daboo Malik, Nitin Raikwar
Director of photography Rajeev Shrivastava
Choreographer Naimash Bhatt
Cast Vijay Raaz, Raveena Tandon, Namrata Shirodkar, Aman Verma, Rinkie Khanna, Divya Dutta,
Shweta Menon, Dia Mirza, Sachin Khedkar, Sayaji Shinde, Sushmita Sen, Mahesh V. Manjrekar
Length 135 minutes
Release date May 2nd 2003
© Text Marco, molodezhnaja 30/10/06
© Images Eros, Screenshots molodezhnaja
---
PREFACE IN GERMAN / VORWORT AUF DEUTSCH:
Diese Kritik ist Teil eines bollywoodbloggers-Projekts, dessen Ziel es war, am 30. September 2006 gleichzeitig Kritiken verschiedener Reviewer zum selben Film online zu stellen. Die beteiligten Blogger und Website-Betreiber suchen so auch den Dialog mit dem Regisseur des Films, Sanjay Jha, der über die Aktion informiert war. Und da der werte Herr kein Deutsch versteht, ist die Kritik natürlich in der internationalen Sprache Englisch verfasst. Um zur älteren deutschsprachigen Kritik zu gelangen, klickt bitte hier. Und für die, die zufällig hier gelandet sind: Der Rest der Website ist auf Deutsch.
STORY
The chawls of Mumbai are the preferred apartment houses for the lower middle class. One such chawl is supposed to make way for a fancy new apartment complex. 49 families would lose their place to live. But the inhabitants unite in protest. This fact is intriguing young Aman (Aman Verma) who moves into the chawl to write a thesis about its people and their strange habits. This is how he meets a series of interesting women: There's Laxmi (Raveena Tandon) who cannot conceive a child but desperately wants one. Dulari (Divya Dutta) has to work for her arrogant family. Sheela (Shweta Menon) suffers the abuses by her jobless, alcoholic husband (Sayaji Shinde). Sex bomb Mona (Namrata Shirodkar) tries hard to become an actress. Suman (Rinkie Khanna) is looking for someone to marry. And Soundarya (Diya Mirza) suffers from being too unattractive to raise the local boys' interest. Aman comes to the rescue and transforms her from an not-so-ugly duckling to a beautiful woman. He also assists the other inhabitants by lending them some cash. Soon enough, everyone owes him money and no one suspects that he secretly works for the builder (Sachin Khedekar) who now owns the debts of the inhabitants and can force them out. But Aman suddenly regrets his charade and joins the chawl people to find a solution. Laxmi (Raveena Tandon) comes up with an idea ...
REVIEW
When I first wrote a German review of "Praan Jaye Par Shaan Na Jaye" in early 2003, I was a Bollywood newcomer and knew nothing about the director Sanjay Jha apart from the fact that this was his debut and that he works as a journalist. At least I read that somewhere. Now a thousand reviews later, I still don't know much about him - except that he has a blog. That's how Michael got in touch with him and initiated this project: Ten reviews of the same film went online on September 30th 2006 which might or might not lead to some interesting discussion. Since I don't own a blog but only a website, there is no possibility to talk about the film here - but I'll refer you to the main project site as well as to the other contributors:
babasko
beth
kaddele
bridget
maria
maria giovanna
michael
mirie
oliver
The first thing you will notice about the film: it's clever. It works on several levels, communicates directly to the audience and refers to more films than your average Tarantino-movie. It's not without flaws, not by a far stretch, but it is film making with an edge that tries to stick out of the mainstream without becoming too strange for the masses. I was hooked fairly quickly because none other than Sushmita Sen appears for a quirky cameo which seamlessly fits the meta character of the film: She is roped in as the narrator to bring to the proceedings some glamour that her bland predecessor sorely lacked. She later reappears throughout the film for amusing narration bits. I especially liked the scene where she accidentally mentions Raveena by her real name and the sequence towards the end with her silly sign-off-dance alongside producer/writer/co-star/bad-guy-for-hire Mahesh Manjrekar. It's is not exactly a great performance but it sparkles with irony and self-mockery. And it's Sush - so it's pleasant by default.
The film quickly introduces a second narrator in the person of Vijay Raaz. The unique character actor best known for his turn in Monsoon Wedding explains to us the chawl world which is the right thing to do: We need a guide to lead us through the tapestry of characters, some played by known faces, many played by unknowns. Jha does a fine job weaving together their different mini-plots and he creates a small chawl world in which we spend the next two hours. However, some of the episodes work better than others and about an hour into the film, the proceedings lose steam. That is when the plot twist about Aman's charade comes into play and promises to speed up the drama. The idea is to make the audience hate Sachin Khedekar who plays the evil builder and on the other hand start to sympathize with the inhabitants' plans.
Nevertheless "Praan Jaye Par Shaan Na Jaye" does not manage to become a stern critique of Mumbai's city planning or the power of the builders, a topic that is only hinted at. Neither does it fully work in other areas because every component is just a small part of a puzzle which also includes a sarcastic look at widow burning (sati), themes of female empowerment, funny characters doing their thing, criticism of the media, a parody of political groups and their power play. By that the film gets too heterogeneous to involve emotionally, too mixed up to be really funny and too talky to be suspenseful. You get silly sound effects next to a suicide attempt and recurring music themes that become annoying (especially the "Mission Impossible" tune). This mix of themes and topics is not presented in a no-holes-barred masala fashion, but rather as a free flowing assembly of stories in search of a dramatic center. By the time Raveena comes up with her bizarre plan, it's already too late and the plan itself quickly drags. And while this whole plot already feels overstuffed, the same goes for the images: Quite often, the frame looks crammed and you long for a simple close-up of a single person, preferably, of course, one of the many beautiful women in the cast. You just can't go wrong with that.
Still, it's hard not to be intrigued. The main reason for this is the presentation of the chawl life itself with the different characters. The closest companion, strange enough, would be the more recent Hong Kong comedy Kung Fu Hustle which also features a kind of chawl community in a fight against corrupt powers. Another strength: The actors are all doing a fine job. Along Vijay Raaz, Sush and Raveena, it's Shweta Menon, Divya Dutta and sweet Diya Mirza who stick out. But in fact, the whole ensemble leaves an impression, even in smaller roles. Also, as an avid film fan, I just love all the toying around with the film world. The Sholay song, the Lagaan track, the DDLJ tune, the Amitabh-like voice, the film references - it's a lot of fun. Equally, Jha's handling of parody elements is part of the joy. Some of the typical Hindi sound effects make their ironic appearance alongside the "booming voice" or the slow motion entry of sexy female stars. There is even a typical Sikh-Muslim-friendship scene done for comic effect and of course Vijay Raaz' constant sneering into the camera. The funniest one might be after the intermission when he tells the audience he has to do some talking because the patrons in India only reappear leisurely after the break.
That leads back to the initial statement: it's clever. Jha clearly knows the Hindi film industry as well as its conventions and he definitely likes to play around with them. The film therefore works best as a parody with witty dialogue and loosely connected vignettes - but even on that level, it never fully clicks. The drama is even less successful due to its fragmentary nature and the strapped-on moral at the end, served by a funny geezer with an absurdly ill fitting latex baldie cap. All that taken into account, I couldn't change my initial rating of 2½ stars out of 5 even after second viewing. I admire lots of its ingredients but as a whole, the film is a bit of an untamed mess. A charming one though.
MY DVD
Eros (USA), Code 0, NTSC
Anamorphic Widescreen
Hindi Dolby Digital 5.1 with English subtitles (film and songs)
Disk rating * * (Lots of scratches, bad focus, some muted colors).
AVAILABLE AT
nehaflix (USA)
EXTERNAL REVIEWS
imdb
indiafm.com (1½/5)
Planetbollywood (5.5/10)
Rediff.com ("Tries too hard to be clever")
SCREENSHOTS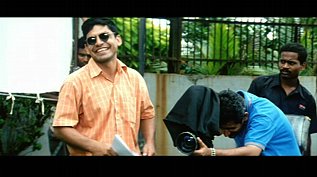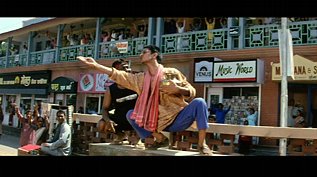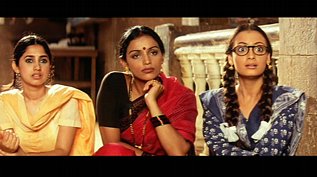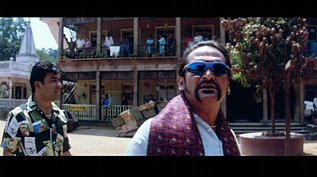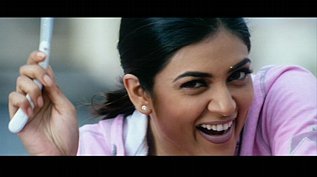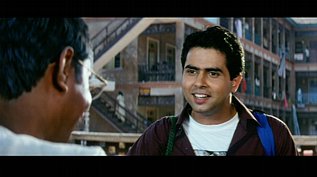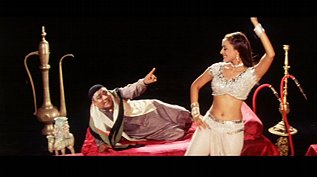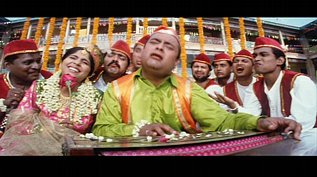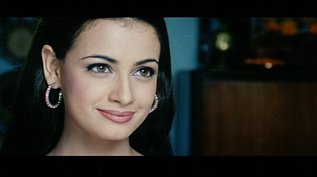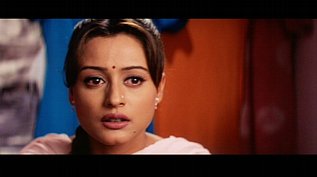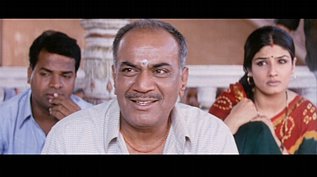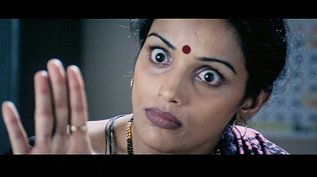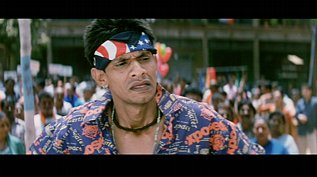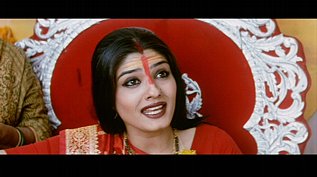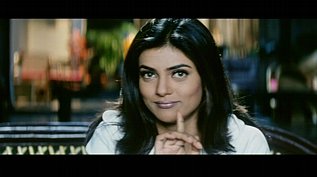 ---

created by molodezhnaja
all rights reserved.
Seite optimiert für Internet Explorer 6.0